There are three essential ingredients for an extraordinary wedding : a bar , a dance party and a photobooth .
As proof , even Kim Kardashian and Kanye West had a photobooth at their wedding !
A photo box is a must for a wedding .
Your wedding day is one of the most important days of your life and you want to keep the most beautiful memories of it .
A photobooth will give you breathtaking photos that will make your grandma cry.
Throughout your wedding, a photo booth will entertain your guests and create a joyful atmosphere. This is the perfect distraction for children, like the older ones. Extra entertainment at a wedding reception is always a plus. Those who are neither drinkers nor dancers enjoy another activity to participate in .
But the fun doesn't stop there.
During your reception, the photo box will be the gift you give to your guests, because photos are the best wedding favors .
Your guests will be delighted to have a souvenir to take home , whether in digital or printed form.
When it comes to renting a photo booth that fits into your big day planning , the options are limitless .. To help you find your way around, we've put together below best ideas :
Make your photobooth remarkable
You want your photobooth to blend in with your venue and make your guests think "it's beautiful!".
So place your wedding photo booth in a high traffic area, like near the bar or the dance floor. Make sure your guests can see it easily. If your guests don't see the photobooth, they won't use it.
The photobooth of your wedding must be placed in a welcoming and quiet place.
Launching a photobooth is like launching the dance party, only easier! Call on your close friends to start the photo shoot and the other guests will quickly join you. Shortly after, you will see an endless queue looming in front of the photo booth!
Report your photobooth
In order to ensure that guests are aware of the presence of the photobooth and that they participate in the activity, adequate signage is essential. Place signs and reminders throughout your reception venue to let guests know where the photo booth is and to encourage them to take advantage of it.
The best photocalls for wedding photobooths
A good background is essential for your wedding photobooth. It will be present on all the photos and must be beautiful, in your image.
Your photocall can be as simple as a solid color. But if you really want to bring out your personality, bring your backdrop to life with decorations that reflect your wedding theme.
You can choose it as fancy as you want.
You only have a poor white wall and you lack inspiration? Think ribbons, curtains, banners or a blackboard with pretty phrases and designs. Here are some other finds:
removable wallpaper
Draped fabrics
vinyl decals
A wall of inflated balloons
Fringed curtains
Fresh flowers hanging
For an outdoor wedding and reception, you can use the natural beauty around you as your backdrop. You can also hang frames from a nearby tree to create a simple photo booth scene.
Want something a little more sophisticated? Assemble four wooden pallets and decorate them with flowers for a rustic, yet elegant decor. You can do the same with reclaimed wood.
You don't want to make your own photocall for your wedding? You can find it for sale on many websites for a meager budget.
You can also use a rental company.
Examples of easy-to-make photocall:
Bohemian with a patchwork fabric: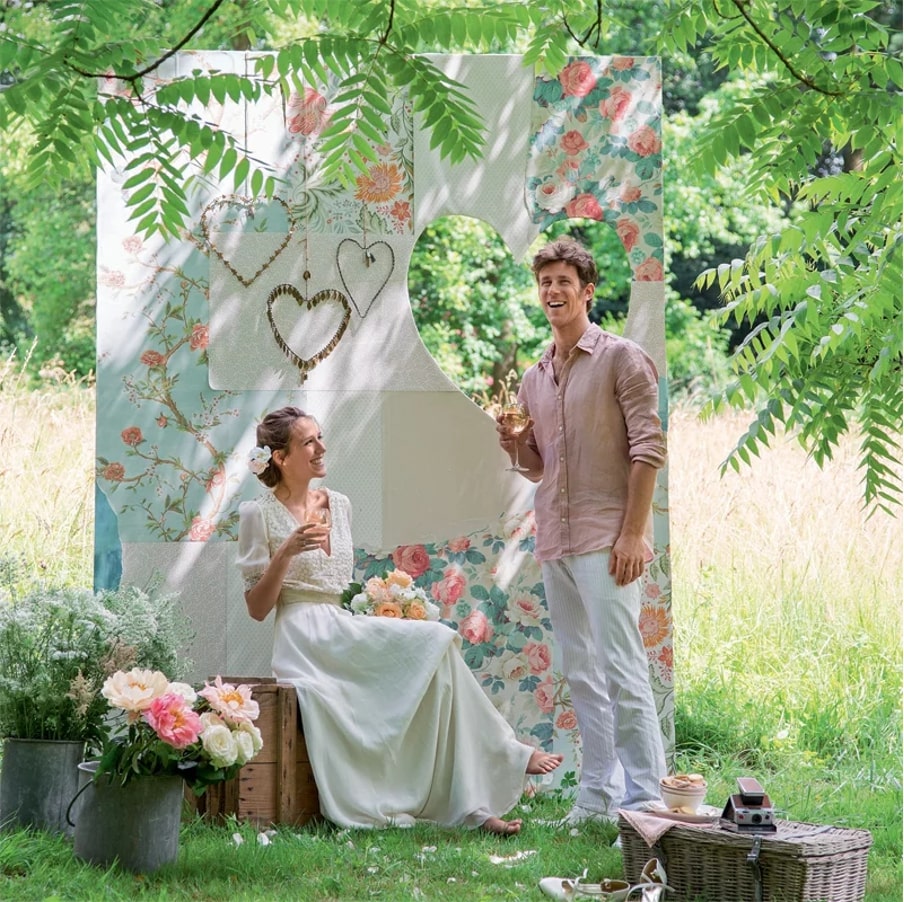 A curtain of light garlands: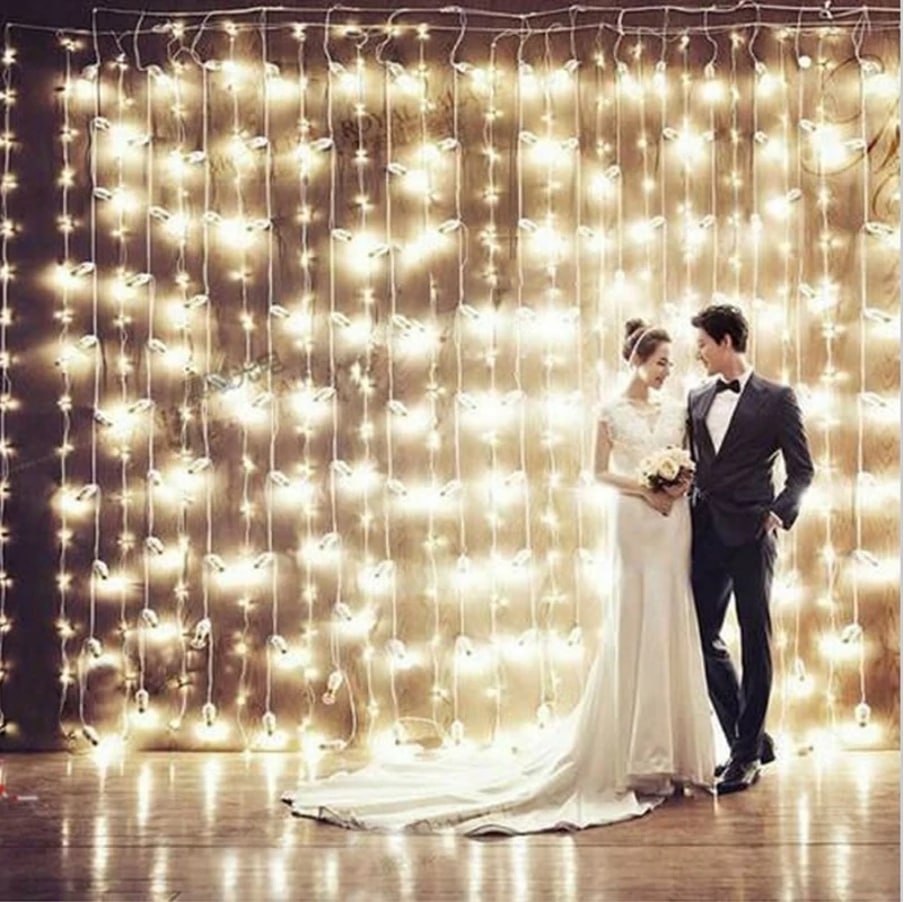 A reclaimed wood photocall: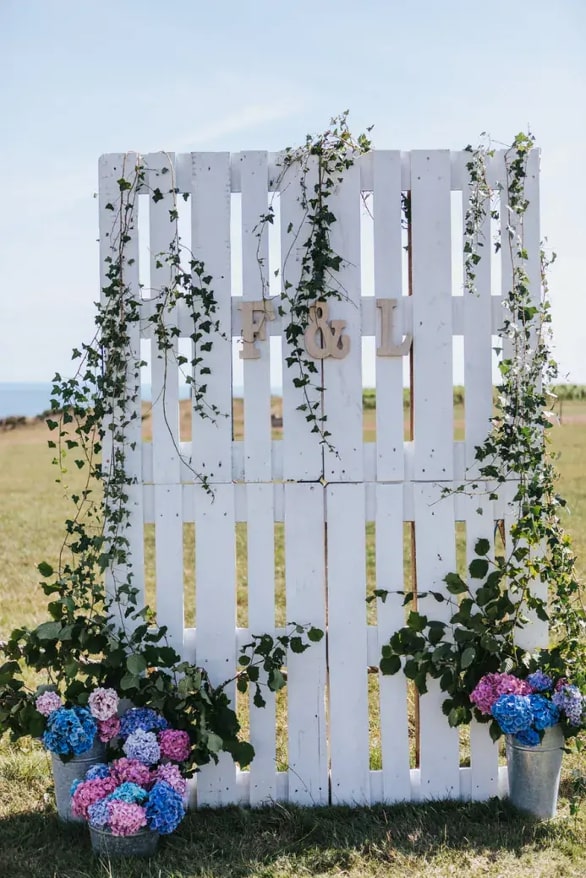 Neat lighting for beautiful photos
We recommend lighting the photobooth location for better photos.
An important step in designing a successful photo booth is to make sure you have a spot with adequate light behind the photo booth.
If your party is outdoors, choose a location where the background of the photo will be exposed to sunlight.
If your party is indoors, use a room with plenty of natural light or place lamps strategically to brighten the space.
It can be illuminated signs or curtains of twinkling lights. If you're hanging lights in the background, be sure to place lighting in front of the photo booth as well, so your guests' faces are on full display.
With proper lighting, your photos will look exquisite.
If your wedding ceremony is indoors, you will need different lighting than for an outdoor wedding.
Depending on the time, the amount of natural light changes and you will have to think about adapting your choice of lighting. Here's what you need to know for each option:
For an indoor wedding, you need to know what lighting is already present in the reception venue so that you can supplement or adjust it.
Vertical lighting is ideal for accenting architectural features or changing the color of walls.
The lights and their colors can contribute to creating different atmospheres in the room where you have chosen to install the photo booth.
For a garden wedding, you can use simple string lights in and between the trees and candles on each table.
Hanging lights up high, like lanterns, also looks great.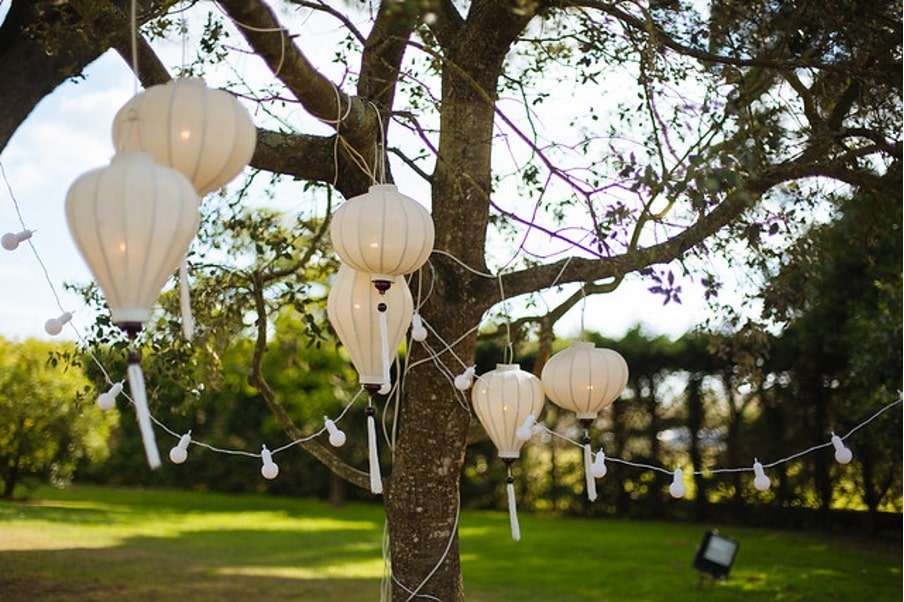 photo booth props
Beyond the photo booth setup, it's a good idea to include various props for guests to pose with. People love to dress up to pose in front of a photo booth.
Props are the best part of any photobooth, so feel free to provide as many choices as possible.
Fun props that pay homage to your childhood interests, places you traveled together or where you got engaged are a great way to personalize the event.
But don't forget that you can also find hats, wigs, glasses, jewelry, and other accessories at thrift stores, thrift stores, costume shops, or even in your own closet. The crazier and wackier it is, the better!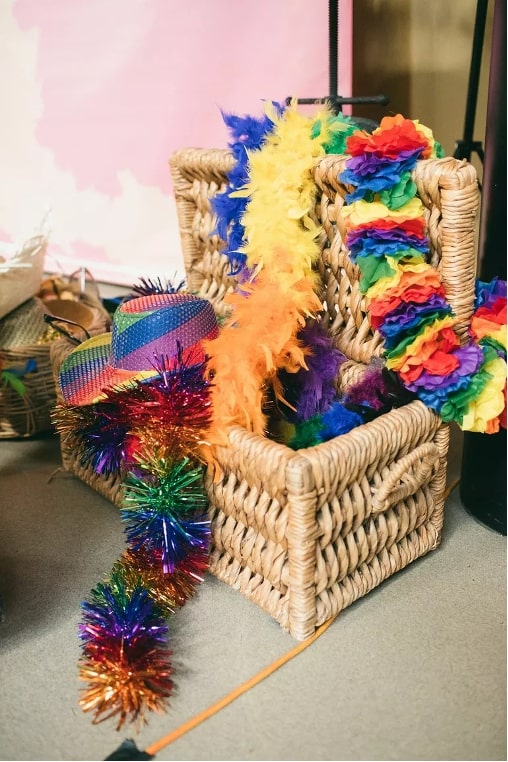 A fun way to make a wedding guest book
There are so many things you can do with photos.
Our favourite? A guestbook.
Instead of a traditional guest book containing photos of your couple, use the photos you receive from the photobooth of all your guests.
It will make your guestbook much more personal and fun.
It's a really special guest book idea and you'll love filling the blank pages with photos and letting your guests jot down endearing messages and good wishes.
Seeing the expressions of your guests next to you will be a lasting memory of the fun they had on your big day.
We guarantee that if other brides and grooms attend your wedding, they will want to steal this idea from you for their own wedding!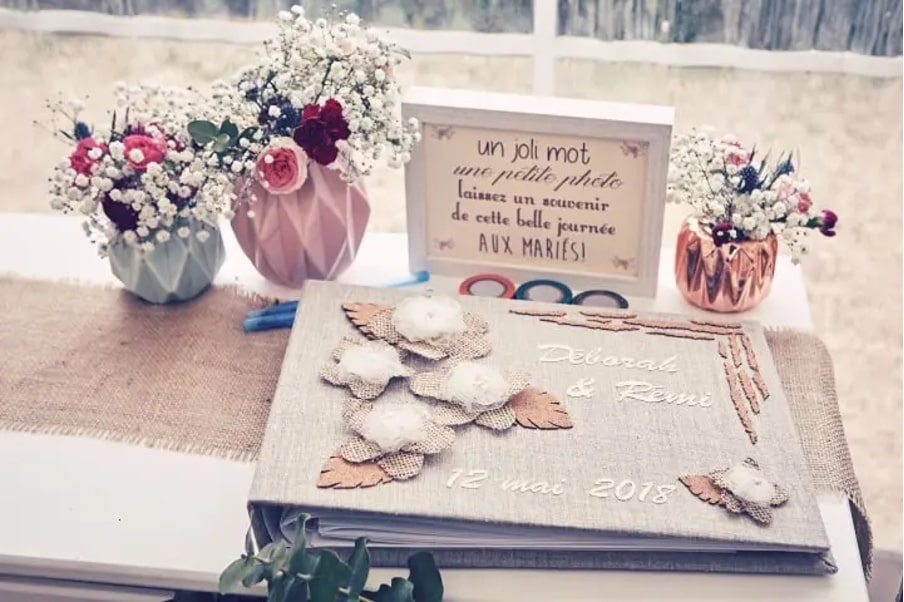 Share all your photos
The photobooth should provide you and your guests with an easy way to retrieve the photos.
With a Burddy photobooth, you and your guests can receive your digital photos directly to your email address, immediately. And it's unlimited!
You will be able to receive your photos on your phone and easily share them on social networks.
After the event, you will receive absolutely all your photos, even the least successful ones, in your online gallery, in your customer area.
Don't worry about your ex, if he's a bit nosy: your gallery is private and only you can decide to share the link with whoever you want.
Enjoy the best of the photobooth
You can find companies on the internet that offer photobooth rentals.
Choose to rent a professional photo booth for a high skill experience.
With a BURDDY photobooth , you are guaranteed to have high quality photos thanks to:
To the 18MP Reflex camera.
To the professional photo printer which is located inside the photo kiosk.
Touchscreen on the 15-inch photobooth for a fun and easy experience.
Photographs printed in 10 seconds on photo paper, for studio quality rendering.
Before you start, make sure that all the conditions correspond to your expectations and your needs. Here are some questions you might ask a photo booth rental company:
Do you offer photo printing?
Will I then receive a digital gallery of my photos?
What means do you offer to the guests to receive their photos?
Does the photo booth include assistance in the event of a technical problem?
Do you have photobooth props?
Can I customize the frame of the photos?
With Burddy, you can find all the answers to your questions in the FAQ on this link:
https://www.burddy.lu/questions-frequentes/
For more information, do not hesitate to contact our customer service: