Personalize your photo frames in the colors of your company!
Once your photobooth is reserved, it's time to personalize your photo frames. You will have access to our customization tool from your customer area. This tool will allow you to create one or more frames for your photos, in several formats and many layouts.
We recommend that you finalize the creation of your frames no later than 8 days before your event, so that they are all loaded onto your photo kiosk before delivery. Personalization remains possible even after delivery of the photo booth. It will simply be necessary to synchronize the photo box (connected to wifi) using the button in the touch interface.
Different photo formats available
The online tool is accessible from your customer account, and the "Modify personalization" option. After entering the name of your event, then configuring the sending of e-mails (Message delivered with the photo when sending by e-mail) and the number of impressions authorized per photo (1 or more impressions), you will discover the 24 available layouts.
The available photo formats are:
Each format has a set of layouts (one or more poses, with a few seconds of intervals between poses). Start by selecting the layout for your first photo frame. Then choose the background: solid color background or from our library of original backgrounds in different themes. You also have the option to upload a background image of your choice from your computer. Then add a small text, and finally one or more images or stickers (your logo for example, or that of the event).
The frame tool has been designed to let your imagination and creativity run wild ! Once your first frame has been validated, you have the possibility of creating others, with the same initial formatting or by choosing a different format (vertical photo, strips …) It is quite possible to mix different photo formats, and all the frames created will be loaded on your photobooth. Its large touch screen will allow you to switch from one frame to another and vary the photos during your event. Ideal for fun photos that are 100% in your image!
Preview of designs made with the frames tool
Here are the possibilities offered by the customization tool, and an overview of the photo frames that can be made. Each frame is fully customizable in the colors of your company or event. You can indeed download from your computer a personalized background, a logo or a particular image, in order to integrate them into the frames.
Do not hesitate to contact our team to get started with the tool!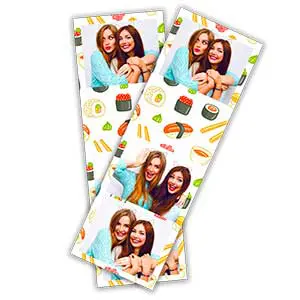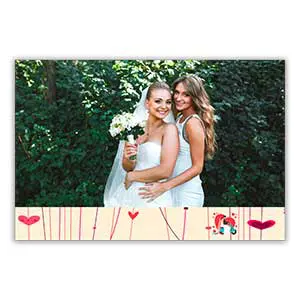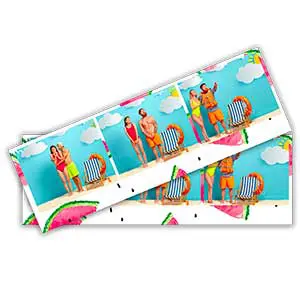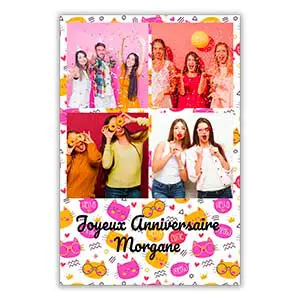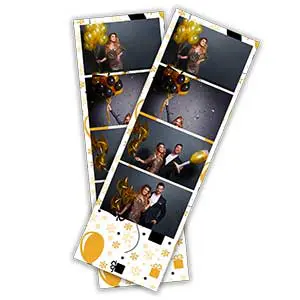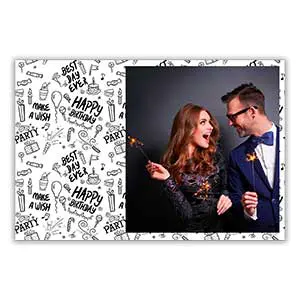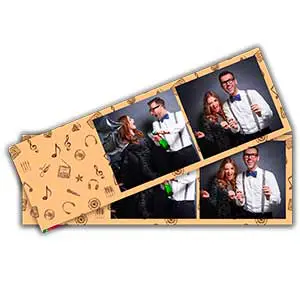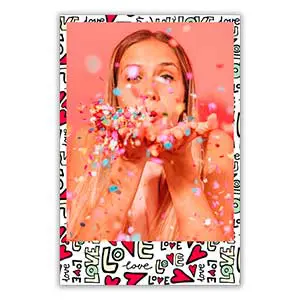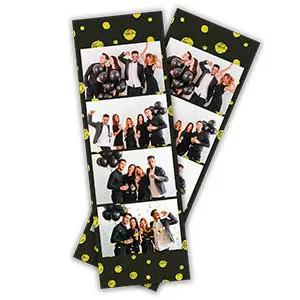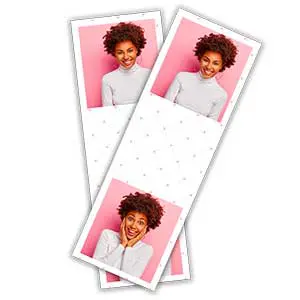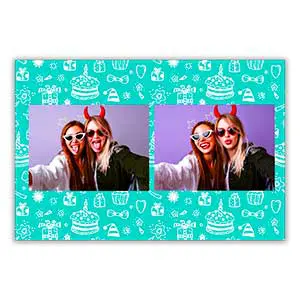 The online frame creation tool
The photo frame personalization tool is accessible online from your customer area, once your reservation has been made.
The operation is very simple and allows you to create one or more custom photo frames, to choose from among the proposed layouts.
You can choose your photo format, your background, add text, images or even a logo.
All the frames created in your customer area will be loaded onto your photo kiosk for your event. Your guests will then be able to switch from one frame to another from the touch screen to vary the shots.